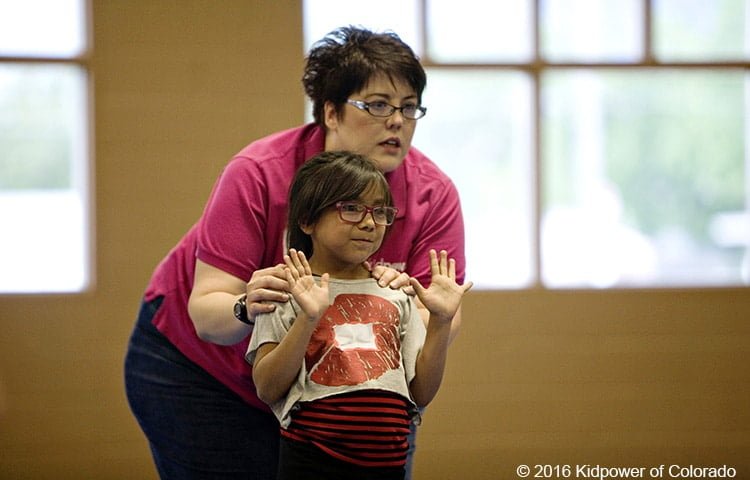 Program Overview
Agencies serving young people with significant life challenges may choose to set up a customized class for their clients so that staff can participate in the program and provide appropriate support. Certain groups may request a customized class to focus on a particular safety issue. If our schedule permits, individual training can be designed for students with emergency safety needs that would not be effectively addressed in a group setting. Please call our office for more information.
"Kidpower instructors engage our youth positively and teach them vital skills to avoid dangerous situations and make wise choices.  Numerous youth have had their self-esteem boosted and walk away feeling empowered despite the circumstances in their personal lives."  Stacy Frost, Supervisor El Paso County Dept of Human Services, Chafee Foster Care Independence Program
For each of us, our belief in our right to be safe is our most important self-protection tool. This belief can be seriously damaged for individuals who are survivors of assault, abuse, neglect, domestic violence, hate crimes, exploitation or who are struggling with personal issues such as homelessness or poverty. Our workshops focus on helping young people regain their power and strength and build skills to stay physically and emotionally safe.
Kidpower classes are taught in a trauma-informed way and are sensitive and appropriate for most students who have faced difficult life challenges. Kidpower works collaboratively with therapists, treatment providers, and social service agencies to ensure that our students in our longer weekend classes are ready for class and receive appropriate support before, during and after a workshop. Kidpower can be a strong and important educational adjunct to counseling services.
Enrollment
Online Enrollment
Call (719) 520-1311 for more information or to organize a workshop.